How we are different from all the others?
Your insurance premiums not only protect you and your family but also help others by funding our great charitable projects.
CLICK FOR MORE
---
CLICK FOR OUR PRODUCT OFFERINGS



---
JUNIOR ACTIVITES, GAMES
AND OTHER FUN

Check out our junior events and download puzzles and games.
---
THE LIFE-CHANGING LIFE INSURANCE CAREER THAT'S OFTEN OVERLOOKED




CLICK HERE FOR THE ARTICLE FROM LifeHealthPro

---
SOCIETY AWARDS



Click here for the video
---
CHECK OUT OUR
YOUTUBE CHANNEL
---
ROYAL ARCANUM BULLETIN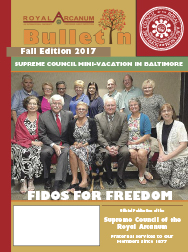 Click above to see this months Bulletin in PDF format


Browse the previous editions of our quarterly Bulletin
---
---
SCHOLARSHIP AND GRANTS
Applications available online for all ages.


About us
The Royal Arcanum is one of the oldest fraternal benefit societies in the United States and Canada, operating under the fraternal system, which offers many social and fraternal benefits to its members.

In the past few years former members of the following fraternal benefit societies have become part of the Royal Arcanum family: Association of Lithuanian Workers (LDS)- 2006, Ukrainian Fraternal Association (Canada only) - 2008, ACA Assurance -2009, and Association of the Sons of Poland 2016.
Read more
Over 135 years
The Royal Arcanum is founded on the principles of good citizenship. It promotes love of country, home and friends; the Fatherhood of God and Brotherhood of Man; faithfulness in performance of obligations of the home; honor in your dealings with mankind; generosity with those less fortunate than yourself; sympathy, kindness and consideration for the bereaved and distressed.
Read more
Like Us on Facebook
Find us
Supreme Council of the Royal Arcanum
61 Batterymarch Street
Boston, MA 02110-3208